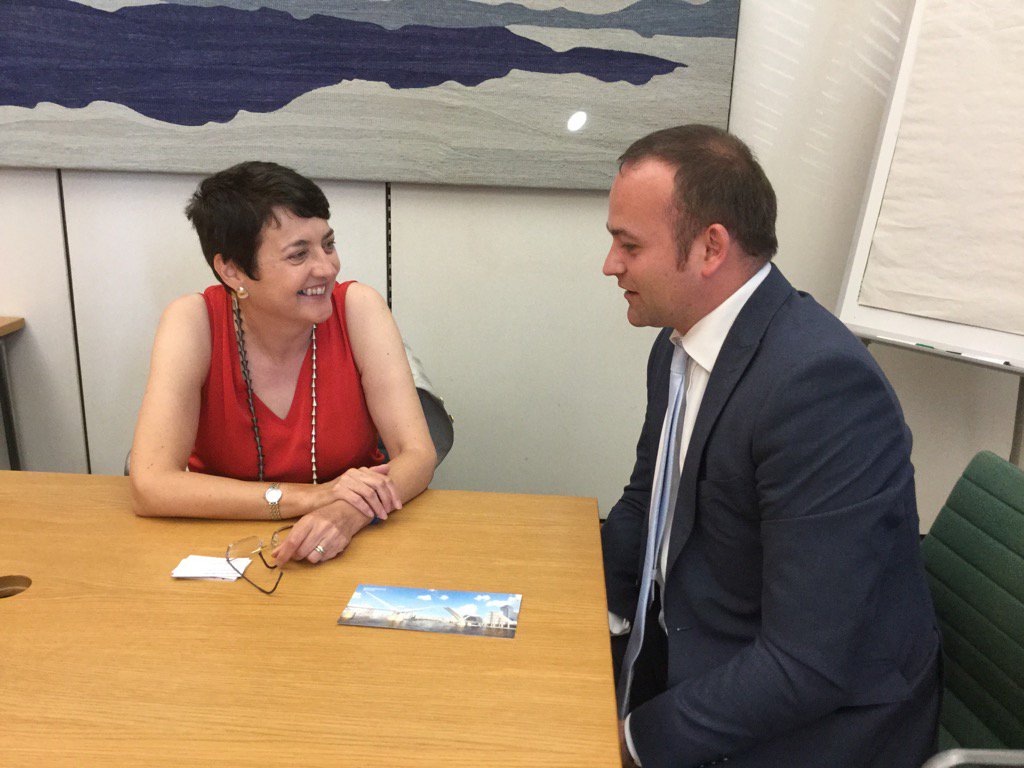 Yesterday I met with Val Shawcross about transport issues in the constituency. Val was the Southwark and Lambeth Labour London Assembly Member before standing down in May and is familiar with local issues and well known to many local people. She's now Deputy Mayor of London for Transport and a very useful ally in City Hall.
We discussed a whole range of transport issues affecting local residents – including the good work already done by Val and London's new Labour Mayor Sadiq Khan in introducing the new 'hopper' bus fare providing people with cheaper travel and opening the night tube. We also discussed a number of other local issues, including:

1. A new pedestrian and cycle bridge linking Rotherhithe and Canary Wharf. This bridge could be a fantastic, more environmentally friendly addition to our transport infrastructure as well as reducing pressure on severely overcrowded buses and tubes. It will also better link Rotherhithe to work and leisure opportunities in Canary Wharf.
I've been consulting local people on the bridge and keen to support it being brought forward. I was extremely pleased to hear Val confirm it is at the top of Sadiq's priorities and more news should be out soon.
2. Extending the cycle hire scheme. I highlighted that the Santander cycles currently don't reach many local people in Rotherhithe and that the extension eastwards of the hire system would be welcome. Many constituents have raised this issue – and Val agreed that it would make a sensible corollary to the new cycle and pedestrian bridge on the peninsula. No guarantees at this stage but watch that space and help me campaign on the issue please!
3. Tower Bridge closure and local road congestion. Tower Bridge is due to close completely from Saturday 1st October 2016 to Friday 30th December 2016. I raised concerns that this would increase pressure on already very heavily congested local roads – and further increase delays on local bus routes especially. I've had complaints about Great Dover Street, Harper Road, Borough High Street, Jamaica Road, Long Lane and Tooley Street all being affected already by other transport diversions in particular.
Sadly, Transport for London have claimed the impact is 'negligible'. This seems patently untrue. But the City of London Corporation have also suggested the maintenance work on the bridge has been delayed a long time and that the works are now unavoidable and essential. I highlighted the buses dumping passengers at the Bricklayers and ending other routes early due to the existing delays and Val agreed to examine this specific issue to try and mitigate problems for local bus passengers.
If you have concerns or thoughts on these and other transport issues locally, please let me know through my local survey: http://www.boslabour.org.uk/transport_survey_2016 or via email: neil.coyle.mp@parliament.uk
Southwark Council's scrutiny committee is also looking at local transport issues and their survey is also online at: https://www.surveymonkey.co.uk/r/7CSGMYT